Torian Davis, 21, preaches on Sundays in Riviera Beach, FL. In the parking lot, where church families listen from their cars, all are safe and prepared for the preaching of the Word. A white tent shading a pulpit sits in the foreground of the imposing, grand, red brick church built in 1965, at 1273 West 30th Street. The church, HillTop Baptist, founded by Reverend Griffin Davis, Torian's grandfather, was built on faith. And love.
As a young man, Griffin Davis was managing his father's nightclub, The Cotton Club, just a few blocks away, also on 30th Street in Riviera Beach. One evening Davis heard God speak to him and his hands began to shake. God told him that working at the club is not what he was to be doing with his life. The experience was so profound, Davis left his job and attended seminary in Nashville, TN. He married the lovely Hughetta Williams and they had three boys.
The way has already been made, all you have to do is walk it. ~Rev. Griffin Davis
When he returned from seminary, the Spirit of God told him it was time to build. And with faith Rev. Davis, and the community, built HillTop Baptist. He worked as a taxi driver, and walked door to door asking for contributions. For the first ten years, Davis had two suits, and two pairs of shoes to preach in. His focus was on fasting and prayer, not fashion. The mortgage was paid off in four years. Though it was built to seat 1500, as the people poured in, they eventually needed folding chairs for the overflow.
Even when the building was still under construction, Rev. Davis held church. Members would go in clean and leave with dirty clothes due to the construction debris. But, oh, how they would talk about the 'Glory' and how it filled that place!'
Evidence of the Call
Jesus said, "Let the little children come to me, and do not hinder them, for the kingdom of heaven belongs to such as these." Matthew 19:14
Torian, a bright-eyed, carrier of peace has been formally preaching for over 10 years. He started at age 3 in his room. By age 6, he wanted a pulpit for Christmas. Through the love and support of his parents, Torian came into the living room that Christmas morning uplifted to see it had been redecorated into a 'church' so he could preach.
As Torian Davis grew up his grandfather was direct with him. He told him he believed Torian was to be a preacher. He would say to Torian, "Time and God will walk you down." Torian agreed to pray about it. Then, one day Torian had his own epiphany when calling out to God for direction. First, he saw a series of Christian TV programs that talked about the woman at the well. The messages cut so deep, as a rhema word, it was Torian's 'come to Jesus' moment. At age 11, he preached his first formal sermon on Father's Day in 2011.
And Jesus came and spake unto them, saying, All power is given unto me in heaven and in earth. Go ye therefore, and teach all nations, baptizing them in the name of the Father, and of the Son, and of the Holy Ghost: Teaching them to observe all things whatsoever I have commanded you: and, lo, I am with you always, even unto the end of the world. Matthew 28:18-20
Guide Me, Oh, Lord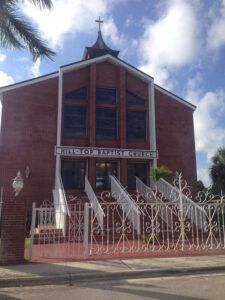 Another answer for direction came when he needed to know if he was to attend college at Morehouse in 2018. Divinely enough, a woman at Hill Top spoke with Torian prophetically and told him he was not going to that college. But Torian, uncertain of God's answer yet, had already prepared for the move and left. To his amazement, when he arrived at the school, there was no record of his name. And the scholarship money he was awarded, it never arrived. Torian quickly returned home, with peace in his spirit, surrounded by family and friends.
Psalm 27:1
The Lord is my light and my salvation—
whom shall I fear?
The Lord is the stronghold of my life—
of whom shall I be afraid?
Torian leads the youth ministry and preaches many Sundays at the main pulpit. His talented brother Sydney plays the drums in the worship band. Five more siblings attend Hilltop and contribute their gifts and talents, while two live out of state. His father, Sydney Davis, manages aspects of the family business Davis Enterprise, including Hilltop MBC Real Estate. Torian's mother, Tarya Davis, is the loving Director of Daycare at the church. One thing is crystal clear. It's love that fuels their family through the generations and love that fuels HillTop Missionary Baptist.
Notable Guests
Of course, with a history as rich and blessed in the community as HillTop Baptist there have been a number of pulpit notable guests over the years such as Rev. Thomas Masters,
Dr. Donald Parsons and Rev. Jasper Williams. And, a few former presidents and boxing legend Sugar Ray Leonard, have also paid a prayerful visit.
Over five decades ago, Rev. Davis was a young man working at a nightclub on 30th Street. God's plan for him all along was just a few blocks away. He chose to listen to God's voice. Today lives are still being changed from the endless well of love that built HillTop Baptist over 50 years ago. Rev. Davis says "The way has already been made, all you have to do is walk it". Torian Davis, along with his family and wider church family, are doing just that.
If you're in South Florida, come say hello to your brothers and sisters at Hilltop. You're always welcome!
HillTop Missionary Baptist Church
(561)-844-3216
1273 West 30th Street, Riviera Beach, Florida
https://www.facebook.com/Hilltop-Missionary-Baptist-Church
About the Author